Wales is a country within the UK with its own regional variations. Farming and rural settlements dominate central regions of Wales, where wages are often lower than the UK average. The south-east of Wales has the highest wage structures and greatest variation in jobs, and also has more leisure and tourism opportunities. The map shows the standards of living across Wales.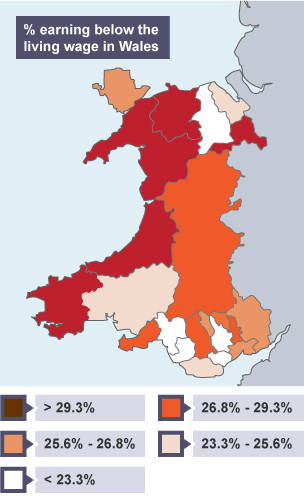 Major infrastructure investment in Wales
In recent years, several major large infrastructure developments have been proposed across Wales. The Circuit of Wales racetrack at Ebbw Vale is one of the largest and potentially exciting developments currently proposed. Ebbw Vale is an area which has already received large EU grants. This includes funding to improve the A465 Heads of the Valley road, and funding to reopen the railway service to Cardiff, which has been a huge success.
The Circuit of Wales will host major international motorsports such as the World Championship MotoGP. This event alone could attract 150,000 people to Wales, and will be watched in 200 countries by over 300 million people.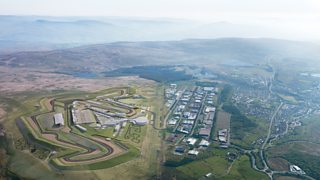 Positive multiplier effect
If the Circuit of Wales is developed, it will provide over 5,000 construction jobs and over 300 permanent jobs. It is estimated that an additional 350,000 people would visit the site and surrounding area every year, spending money in local businesses and increasing governmental taxes. This in turn creates additional jobs and additional tax payments so that local government authorities have greater spending power to invest in health, social and educational facilities. In addition, other large companies such as TVR (a manufacturer of sports cars which has its headquarters in Whiteley) have also considered relocating to the site, which intends to become an engineering hub and centre of excellence in motorsport engineering. A range of hotels, restaurants and cultural activities are also in the pipeline, which all combine to make a positive impact on the region, thus a positive multiplier effect will be had. In an area where there is large unemployment due to the collapse of the steel and coal industry, inequality in the area could be reduced by such a large scale investment.