It has long been recognised that there is a north-south divide in the UK.
What is the divide?
Although government spending on public services is roughly even across the country, many businesses are choosing to set up in the south because this is where the big name businesses are and the infrastructure is already in place. This creates a large wealth divide, and those living in the north of the country can experience lower incomes, higher unemployment and a lower standard of living than those living in the south.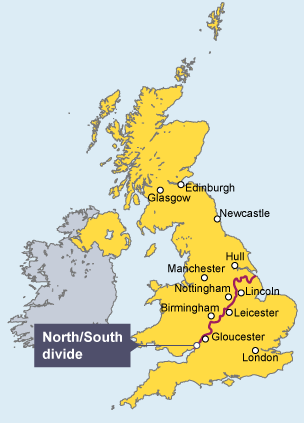 The Centre for Cities is a charity that measures economic growth and change in 64 UK cities. In 2015, it found that for every 12 jobs created since 2004 in southern cities, only one was created in cities elsewhere. Cities like London and Milton Keynes in the south have seen a large growth in the number of jobs available, whilst Blackpool and Hull in the north have seen a large decline.
Causes of the north-south divide
There are many, often complex, causes of the north-south divide.
Political
Over the last 50 years government policy has tried to encourage investment away from the south-east of England to other regions of the UK. However, many large companies have headquarters (HQ) in the south-east, making it easier to make crucial decisions.
Social
With over 20 million people of the UK's population living within a one hour commute of London, many businesses prefer to locate themselves close to their customers, and within commuting distance of their staff. Many universities are in the south of the UK, including Oxford and Cambridge, which provide many workers - who employers may perceive as being most skilled and desirable.
Economic
With the largest markets located in the south-east, which also includes good access to European markets, companies have greatest potential to maximise profits by locating in the south.
Strategies to resolve regional differences
Resolving regional differences is a difficult task. The government has agreed devolution measures, which gives additional power and money to councils in the north. An example is the election of a mayor for Greater Manchester, who has been given £1 billion of devolved funds to spend on improving the city's infrastructure in order to attract new businesses. This will mean that fewer decisions about the city are made in London and more decisions are made by the people of Manchester. Other local councils are demanding the same control.
In Wales, a similar sum of money has been provided to help create new jobs and attract new businesses to set up. For example, the car company Aston Martin has moved some of its productions to a newly-built site at St Athan, south Wales. The positive multiplier effect may lead to other similar companies locating close by. The new plant in south Wales will provide 750 highly skilled jobs.