Flowing rhythms are created when organic shapes and forms are repeated, or where repetition is irregular. This results in a sense of movement or flow.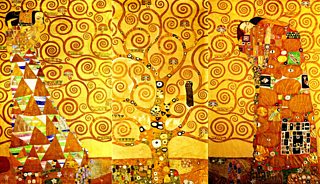 The Tree of Life (Gustav Klimt, 1905-09) is an example of a flowing rhythm using line and shape.
Klimt repeated a spiralling line to create the flowing shape of the tree. It leads the viewer's eye from the middle of the painting out to the sides of the artwork, where we see human figures.
The spirals themselves are flowing organic shapes. They vary in size and orientation and they are arranged in an irregular flowing rhythm that seems natural and suggests movement.
William Morris' Trellis wallpaper design (1864) shows a regular rhythm in the grid of squares created by the trellis.
There is also flowing rhythm in the natural, curving shapes of the stem and branches of the climbing plant.
These lead the eye around the irregular repetition of bird, flower and leaf shapes.