Hoseason, Henderland, Cluny and Rankeillor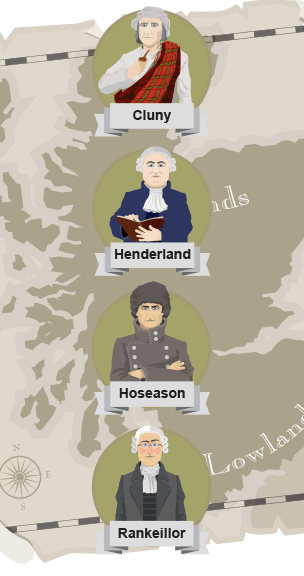 Rankeillor
Rankeillor represents the canny and careful Lowlander, keen on the letter of the law. He is also genuinely concerned about David's fate.
While he is willing to help David, he sets limitations on his own involvement in the situation. For example, he insists that he should know as little as possible about Alan, because of his alleged involvement in the murder of Colin Campbell, the Red Fox. They agree to call him 'Mr Thomson' to allow Rankeillor to claim that he did not know who Alan was.
Henderland
Henderland serves an interesting function in Kidnapped because he is a Lowlander who lives in the Highlands.
He works for the Society for the Propagation of Christian Knowledge. This suggests he is a missionary spreading Christianity among godless people. His mission is actually to convert Catholic Highlanders to Protestantism. Nonetheless he seems a sympathetic character who is unwilling to believe the worst of people, including Alan.
His addiction to snuff is an example of a touch of character detail that shows Stevenson's skill as a writer.
Henderland has only a minor role in the plot, in conducting David part way across Mull. His importance is more in terms of theme and character, as he illustrates the religious, language and cultural divisions that existed in Scotland at the time. Henderland also helps to show the reader that David is still very young and vulnerable, when he invites David to join him in prayer.
Hoseason
Hoseason is a naval captain who is more concerned about his ship than about any human being. He is an imposing figure whom David describes as being dignified and sober in appearance.
He resents the suggestion he has not behaved properly in respect of David and Ransome, yet he is willing to engage in a criminal plot to kidnap.
Cluny
Cluny is a sad figure. He is an example of a Highland clan chief who has lost almost everything but tries to remain dignified. His hideaway is effective but leaves him a virtual prisoner. He is glad of company and the chance to play cards, which is more about engaging in a gentlemanly pastime than winning.