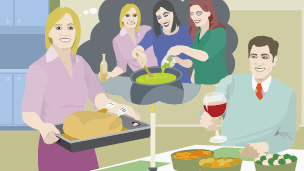 In this poem, Lochhead challenges our usual perceptions of women who have been betrayed by a partner who has been unfaithful.
Instead of presenting the woman as a victim, she is depicted preparing a final meal to mark the end of the relationship. She imagines herself and her girlfriends later gorging themselves on the lies and infidelity of her ex-lover.
In doing so, she presents an unflattering yet truthful depiction of the nature of some female friendships.