Scientific method
Science aims to develop a good explanation of natural events (phenomena) that are observed.
Scientists develop explanations using the scientific method. This follows a specific way of working:
propose a

hypothesis

, an initial theory or explanation for an observation

make a

prediction

based on the hypothesis, suggesting how changing one factor will affect the outcome

Plan an experiment - this should test the prediction and the hypothesis on which it is based
Planning experiments
It is important to choose appropriate apparatus, materials and techniques.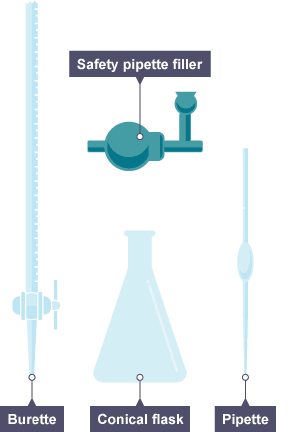 Apparatus
Containers including:
test tubes

boiling tubes

beakers

flasks
Measuring apparatus including:
timers

rulers

pipettes

measuring cylinders
Heating and electrical apparatus including:
Chemicals
Reacting chemicals including:
Chemicals for analysis including:
Techniques
Standard techniques of measurement. The table gives some examples
| Apparatus | Measures |
| --- | --- |
| Thermometer | Temperature |
| pH meter | pH |
| Timer | Time |
| Digital balance | Mass |
| Measuring cylinder | Volume of liquid |
| Burette | Volume of liquid in titration |
| Gas syringe | Volume of gas |
Methods of analysis including
Methods for carrying out reactions including: