Reasons for movement in Syria
In 2011, a civil war began in Syria, which by 2017 had seen an estimated 2 million refugees flee their home into neighbouring countries.
86 per cent of refugees are cared for by low income countries (LICs), not high income countries (HICs).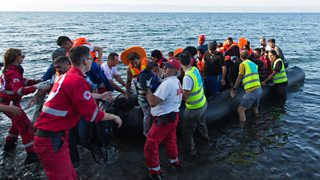 People who migrate from one country to another to escape persecution and war are called refugees. However, people who leave a country to improve their job prospects and quality of life are called economic migrants.
Where is Syria located?
Syria lies on the far western edge of south Asia, bordering Turkey (Europe), Iraq, Jordan, Israel and Lebanon.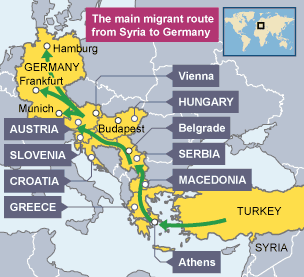 Differing views on the crisis
Many people have strong views about the refugee crisis in Syria. Often these views may be biased or inaccurate, based on media coverage of the story. However, some views are very relevant, and help us to understand the challenges faced by people caught up in this humanitarian crisis.
We are not living, we are surviving! I live in an overcrowded block with hundreds of other refugees. I have no privacy. My husband made the dangerous journey by boat to Europe. He is now in Germany. One day, perhaps we will be able to join him.

Syrian refugee mother of three children
I no longer go to school. I do odd jobs here and there to support my family. I want to save $1,000 – that's how much the people smugglers charge to get into Europe by boat. I know that's a dangerous option but I have no future here.

Refugee boy, aged 15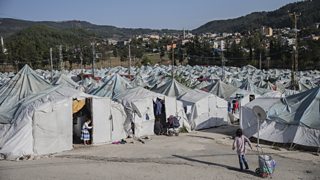 Tackling the crisis
There are many national and international approaches to help tackle the crisis. Some countries, such as Germany, have welcomed the refugees while some, such as Austria, have tried to close their borders and send them back.
In addition, the Italian and Greek coastguards have set up an international agreement to help monitor and support the migrants crossing the Mediterranean Sea. The UK Navy has also been involved, and has the authority to seize and destroy boats used by people traffickers (smugglers) who have exploited the refugees.