Tools, equipment and processes
Production aids
A designing template can be used to help ensure that information is placed correctly. They are used to ensure the shape of your design is accurate and can be used repeatedly to ensure the same shape is produced each time. They can be drawn around or inside to help ensure that sketches are identical and that particular shapes are drawn as desired, such as a cricle or ellipse template. Other kinds of templates can be held up against a product to check the shape after manufacture.
A pattern is often used in the commercial manufacture of paper and boards. Patterns can be created by hand, but it is quicker and easier to use computer aided design (CAD), and it can be more consistent. Wallpaper is a great example of the use of a pattern.
Measuring
There is a range of measuring equipment available to aid accurate drawing:
a ruler - to measure distance and draw a straight line

a protractor - to measure angles

a set square - to draw lines at specific angles

French curves - to draw curves of different sizes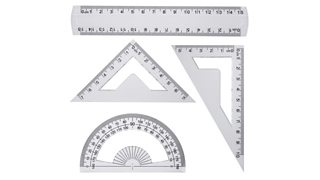 Cutting
A range of tools can be used to cut paper or board accurately:
guillotine (paper trimmer) - to cut a large number of paper sheets at once with a straight edge

craft knife - to cut and score paper and cardboard, particularly useful when cutting internal shapes out of material

compass cutter - to cut a circle or an

arc

from paper or thin card

rotary cutter - to cut a circle or an arc from thicker cardboard

laser cutter - to perform the perfect

intricate

cut to paper and card, if the speed and power are set correctly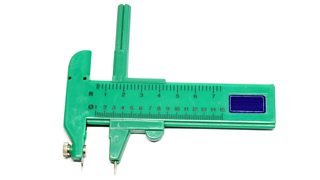 Coatings and surface alterations
Paper and board can be protected further by laminating, which gives a shiny, water-resistant surface. It creates a thick, durable surface, often making the paper or board last longer. The paper or board is placed in a plastic sleeve, which is then heated and pulled through rollers, bonding the two surfaces of the film together and sealing the product.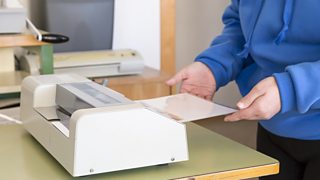 Quite often paper and card are modified by the addition of chemicals or processes. Bleach is added to make the paper or card whiter, and varying amounts of bleach can be added so that the paper or card is the required colour.
Some papers are suitable for use with markers, as these papers do not allow the ink to bleed when they get wet from the marker ink. Sizing is the term used when a chemical is added to the paper to give it a protective glaze. This glaze prevents the paper from being absorbent and makes it suitable for use with wet marker pens.
There are many other additions that can change the working properties of the material. Clay can be added to card to make a paper plate, or a clear ultraviolet (UV) sensitive liquid can be applied to card to give a high-gloss finish. A UV glossy coating is better for the environment as there is no laminated polymer to separate during the recycling process.