A great number of trees have to be cut down in order to manufacture 'virgin' paper. Paper and board can only be recycled seven times before it has to be mixed with new fibres. It is important to recycle paper and boards as this will have less impact on the environment through factors such as deforestation, which can then lead to soil erosion. Deforestation has a huge effect on the ecosystem and the people and specific breeds of animals that rely on them.
Many companies now replant trees to replace the ones they have removed, although it will take many years for them to grow back. It is important this is managed well, as there has been poor management of this in the past. The biggest problem is the use of hardwood trees, which take many years to mature. Hardwood trees take a long time to grow, around 60 years (sometimes up to 100). In comparison, softwood trees like pine take just 25 years.
The Forest Stewardship Council (FSC) is an international, non-governmental organisation dedicated to promoting responsible management of the world's forests. It provides certification for companies so that consumers know that there has been some responsible management of the forests. Their logo appears on many packaged products.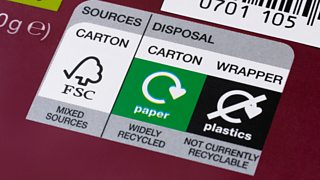 Whenever environmental impact is to be reduced, 'the 6 Rs' can be addressed to ensure an in-depth analysis has been done. The 6 Rs can be considered by the designer, the manufacturer and the consumer to reduce that negative impact on the environment.