Worship in the Methodist Church
Worship in the Methodist Church is structured in style, but can also include the reciting of creeds and prayers (perhaps for a special service such as Holy Communion).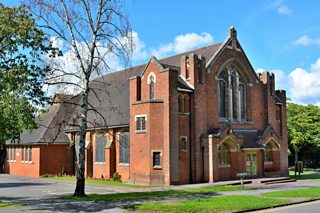 The Sunday service
The structure of worship on Sundays can vary from church to church. Sometimes there is a regular structure which follows the liturgy contained in the Methodist Service Book. However, it is more common for services to change from week to week and to include mostly free forms of worship. The form of the Sunday service will also depend on whether there is a family service or a communion service. Communion usually takes place once a month. A usual Sunday service will include three main parts:
Preparation

- call to worship, hymns focussing on the nature of God, prayers of adoration and confession

Ministry of the word

- hymns, readings from the Bible, the sermon, the creed is recited

Responses

– prayers of thanksgiving, the offering, prayers of

intercession

and

petition

, the

Lord's Prayer

, final hymn and dismissal
The Bible
The Bible plays an important part in the worship of the Methodist Church as well as in the lives of individual members. This is symbolised by an open Bible being placed on the communion table. Methodist churches use a lectionary based on the Old Testament and New Testament, so the Bible is read regularly in Sunday service. The sermon is usually based on a specific Bible passage.
There is great importance attached to preaching. This goes back to John Wesley, the founder of Methodism. It is through the sermon that the people hear God's word explained to them and how to apply it to their own lives. The Bible is also used indirectly through the saying of creeds and prayers contained in the Methodist Service book, as these words are based on the Bible.
For Methodists, the importance of the Bible is also shown by members of the church gathering in small groups during the week to study it in an informal setting. The Bible is seen as a guide for life. Through reading and studying it Christians can mature in their faith.
Music
Music plays an important part in worship in the Methodist Church. There is a strong tradition of singing. Charles Wesley (brother of John Wesley) wrote over 7,000 hymns, many of which are still used in churches today.