Queen are a British rock band who wrote music in a range of styles including power ballads, hard rock, piano-centred pop and glam rock.
Each of the band members has written hits for Queen, usually composing on their own and then sharing their idea with the rest of the band.
The members of Queen are:
Freddie Mercury - lead vocals, piano

Brian May - guitar, vocals

Roger Taylor - drums, vocals

John Deacon - bass guitar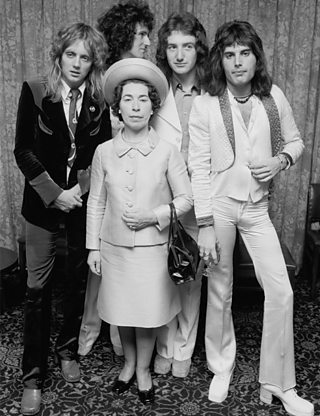 Queen released their first album - Queen - in 1973, which reached No.23 in the UK charts. Their second album, Queen II, reached No.5 in the UK charts and was released in March of 1974. Eight months later, the album Sheer Heart Attack was released and peaked in the UK charts at No.2.
Queen are known for their stadium shows, which include elaborate staging, lighting and clothing. The use of studio features such as overdubbing in addition to new technologies has allowed the band to produce ground-breaking and thought-provoking music videos, such as the 1975 video to Bohemian Rhapsody and the 1984 video to I Want to Break Free.
Musically, they are known for their virtuosity, especially because of Freddie Mercury's falsetto vocal range and Brian May's extensive guitar solos. His guitar playing on Killer Queen is heavily influenced by the lead vocal melody line.
Freddie Mercury died in 1991 due to complications caused by the AIDS virus. He was 45. Today, Brian May and Roger Taylor still perform as Queen, with invited guests to sing the vocal parts.