Killer Queen was written by the vocalist of Queen, Freddie Mercury, in 1974 and featured on the album Sheer Heart Attack. Unusually for Mercury, he wrote the lyrics before the music.
Queen's first two albums were influenced by heavy metal and progressive rock music whereas Killer Queen was a change in style. It is a laid back, light and elegant song, influenced by cabaret with a distinctive swing feel.
In an interview in 1974, Freddie Mercury said "People are used to hard rock, energy music from Queen, yet with this single you almost expect Noël Coward to sing it."
Sir Noël Coward was a London playwright known for his flamboyant plays spanning a 40-year career, starting in the 1920s. Mercury was influenced by the theatre culture and its music, which can be clearly heard in Queen's later albums.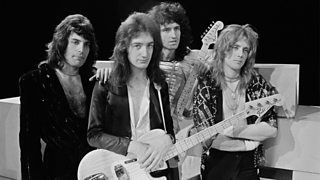 Killer Queen was released as a single in 1974, reaching No.2 in the UK and 12 in the US music charts. The song was a success across Europe, Australia and Canada.