When considering the ecological and social implications of using metal, its non-renewable nature is the main concern. Metal cannot be grown and is a finite resource - there is only a certain amount within the Earth's crust.
To create aluminium, the ore bauxite is mined as it contains aluminium hydroxide minerals. The bauxite is purified so that aluminium oxide is produced, and the aluminium is extracted from this through electrolysis. Huge amounts of energy are used to extract aluminium and convert it into a usable material. Recycling it requires some energy to make it usable again, but nowhere near as much.
Steel is made in huge and exceedingly hot cauldrons. Its production uses a lot of energy and contributes approximately 5 per cent of the world's greenhouse gas emissions.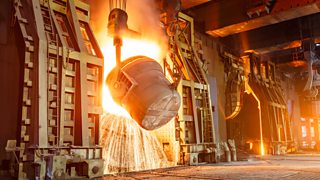 Whenever environmental impact is being reduced, 'The 6 Rs' can be called on to ensure an in-depth analysis has been done. The 6 Rs can be considered by the designer, the manufacturer and the customer.