Once you have collected data on your capabilities in a factor, you move further along the cycle of analysis.
This requires analysing the data and creating a development plan, relevant to your performance levels.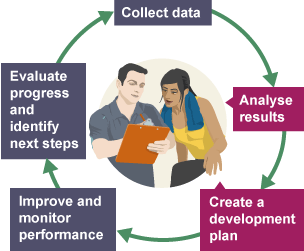 Analysing data
Having collected data, you need to analyse your results to identify your strengths and weaknesses.
Although you want to maintain your strengths, you are primarily concerned with taking your weaknesses on to the next stage of the cycle of analysis.
When you know your performance levels in a factor, you can start to build your development plan. This is shown below:
Factor:

Physical (muscular endurance)

Qualitative method:

PPW

Score obtained:

3/10

Quantitative method:

standardised fitness test

Score obtained:

Very poor NORM
Having achieved the above results, you could do the following in relation to your planning:
Identify approaches appropriate to your weakness:

circuit training for muscular endurance

Set sessions at the correct duration and intensities

based on current muscular endurance levels

Plan how frequently you will train in week one

while taking into account how much you would be capable of doing in seven days

Set realistic short, medium and long-term goals

for your development plan based on the result achieved
It is vital you refer to your data collection results when planning and creating a development plan.
The next step is how to use your results to aid your goal setting.