Carboxylic acids all contain the carboxyl group (-COOH). When naming carboxylic acids, the same rules as before are followed, but the position of the carboxyl group does not need to be identified, as it is always on C1.
For example, propanoic acid (CH3CH2COOH)

Carboxylic acids with branches can also be named following the rules.
The longest carbon chain in the molecule below contains four carbon atoms. As the carbon of the carboxyl group is the first of the chain, then both branches are on the third carbon.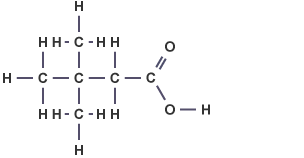 This molecule is therefore called 3,3-dimethylbutanoic acid.