Political representation amongst ethnic minorities
Four decades ago, there were only 300 black elected officials nationwide and three African-American members of Congress. Today there are around 9,000 black elected officials (BEOs). In 2016 the largest ever number of African Americans were elected to Congress (48 out of 535) but this is still less than their share of the American population.
Minorities and the political process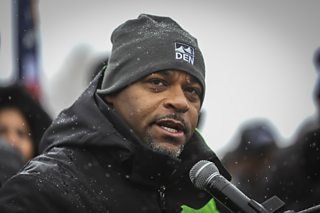 There are nine Supreme Court justices. In 2018, only two are from a minority group – Judge Clarence Thomas and Judge Sonia Sotomayor.
There are many people from ethnic minority groups who are city mayors including Michael Hancock of Denver, the city's second black mayor. Overall, minorities remain under-represented in US politics.