Changes in technology
The rise of web technologies and the use of smartphones have created new opportunities for businesses.
E-commerce
E-commerce is any business transaction that takes place using the internet. This can mean any of the following:
businesses selling to

consumers

(business to consumer, or B2C)

businesses selling to other businesses (business to business, or B2B)

consumers selling to other consumers directly (consumer to consumer, or C2C) through online auction sites or online shopping sites
E-commerce has allowed businesses to sell to different countries and customers on a much wider scale.
M-commerce
M-commerce is any business transaction that takes place through a mobile device such as a mobile phone or tablet. Businesses try to increase the use of m-commerce by developing their own mobile apps to sell goods and services. Transactions can also take place when consumers access the business's website through mobile technology. M-commerce is now also being used in regular shops, where payment can be made via a smartphone.
Social media
Social media platforms have allowed businesses and customers to interact in more ways, allowing businesses to create more personal relationships with their customers. Social media offers a simple, cheap and effective way of creating brand awareness. For example, clothes retailers can obtain feedback on the latest fashions or provide exclusive promotions.
Businesses can also pay other businesses, celebrities or influencers to promote their brand or product by sharing photos of themselves wearing or using a product or service. This is often cheaper than traditional advertising and allows businesses to reach their target market more easily.
Social media platforms are widely used by businesses to attract new and retain existing customers. For example, travel agents often promote free holidays or competitions to those who share or like their page. A smaller clothing brand might use social media as a method of cheap promotion when it is starting up.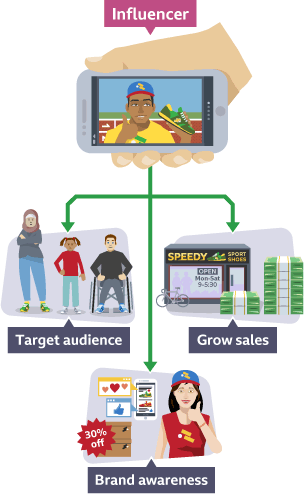 Other new technologies
As well as these developments, there are other technological developments that affect specific sectors and companies. Examples include the introduction of self-scanning checkouts in supermarkets, 3D printing of tailor-made artificial limbs, global positioning system (GPS) for satellite navigation systems, eg pet-monitoring collars. Technological developments increase the opportunities and potential for new and improved business ideas to come about.