The resistance of a metal conductor is due to collisions between the free electrons of the electric current and the metal
ions
of the wire.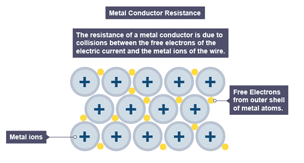 If the temperature of a metal conductor increases, the ions of the metal vibrate more vigorously.
This increases the number of collisions between the free electrons and the ions.
Hence, for a metal, resistance increases with increasing temperature.
Often the increase in temperature is caused by an increase in current.
An example is a filament lamp.
As current increases, the filament gets hotter and the resistance of the bulb increases.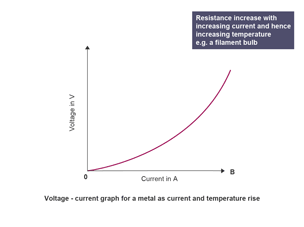 A thermistor is a device that's resistance changes with temperature.
The resistance of an NTC thermistor decreases with increasing temperature.
A voltage-current graph for a thermistor is shown below.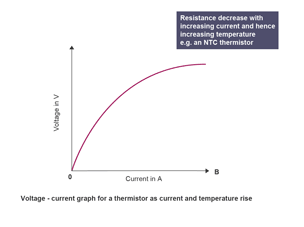 Voltage - Current graph for a thermistor as current and temperature rise.