Baptism in the Church today
There is a long tradition in Christianity of baptising babies and infants. Those who do so admit there is no direct reference to infant baptism in the New Testament. However, they say that when whole households were baptised there is no suggestion that children were excluded. Therefore infant baptism must be permissible. The Church of Ireland, Methodist, Presbyterian and Roman Catholic churches all practice infant baptism.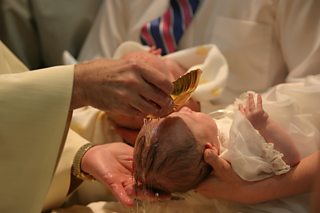 However, those who baptise only believers argue that the New Testament has many examples of believer's baptism, so this must be the correct way of baptising people. Faith in God is a personal decision which must be made before baptism can take place. The Baptist, Brethren and some other evangelical churches hold this belief today.
When a baby is baptised the service will focus on the faith of the parents, rather than the baby. There is the expectation that the parents will provide a Christian home and upbringing for the child.
When babies and infants are baptised the water will be sprinkled, poured from a jug or marked in the sign of the cross on the child's head.
Those who practice believer's baptism maintain that immersion is the only acceptable form of baptism. They explain that the word which is translated in the Bible as 'baptism' is the Greek word 'baptizo', which literally means to plunge, dip or immerse