All designers need to know the stock sizes that timber and man-made boards are available in. If stock sizes are known, then designs can be manufactured more economically to reduce waste.
Once timber has been cut at a sawmill, it is referred to as 'rough cut', with uses including garden fence posts and some building work. Timber that is sold at DIY shops or from a timber merchant can often be bought with smooth, planed edges.
If planed timber is bought, the price will be higher because of the care taken to process the length of wood. PSE is a term used to indicate that the timber has a 'planed square edge'. This means that one edge will be planed smooth. PAR is a term used to indicate that the timber is planed all round, meaning that both the edges and sides have been planed. Planed timber is used for interior work where the timber is likely to be seen.
Hardwood and softwood are normally sold in lengths called planks, boards or mouldings. Planks and boards refer to the proportional dimensions of the timber, whereas moulding refers to a decorative pattern that has been cut using a spindle moulder. Moulded timber can be used for skirting boards and dado rails.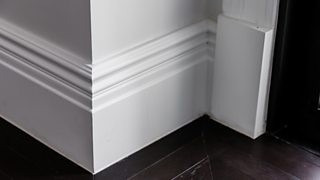 Veneer is the term used to describe a thin sheet of timber, usually made from an expensive hardwood. Veneer is cut in the same way that a pencil sharpener works - the timber is rotated as a blade cuts a thin sheet of veneer from the trunk. Veneer is often used to cover a cheaper material such as plywood, MDF or even a softwood. Quite often an 'oak' table will actually be an MDF table with an oak veneer. The table could still be considered expensive to buy, but would be considerably cheaper than a solid oak table.