When considering the ecological and social implications of using timber, the term 'deforestation' is often used. Deforestation is when a clearing is made by chopping down trees. It is possible to manage deforestation through responsible management of the forests. If more trees are planted than are cut, it is possible to minimise the impact.
Supply and demand can cause issues for forest management. If the customer demands more timber because of an increase in purchasing, a forest management organisation could struggle as trees will take time to mature.
Alternative boards made from recycled timber are available.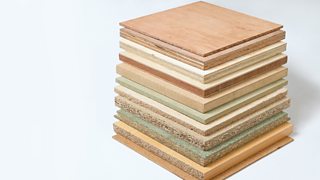 Plywood, MDF, chipboard and blockboard can all be made from timber that has once been used. These recycled materials are made by gluing pieces of timber or fibres of timber together - the gluing process makes it very difficult to recycle the timber a second time around. MDF cannot be recycled and often ends up in a landfill site when it has reached the end of its life.
Whenever environmental impact is to be reduced, the term 'the 6 Rs' can always be called upon to ensure an in-depth analysis has been done. The 6 Rs can be considered by the designer, the manufacturer and the consumer to reduce that negative impact on the environment.