The hospitality industry has a responsibility to serve healthy dishes to customers.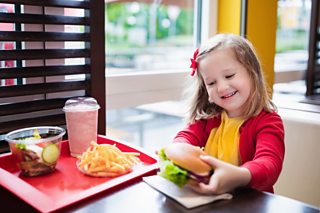 Choices made in food outlets are up to the customer but healthy options should be available.
Food served in these outlets are only a part of a person's diet but should allow the customer to make choices within the recommended guidelines for a balanced diet.
In the catering services sector, customers, or people who use the service, have much less choice when it comes to meal times. That's why there's a greater responsibility on those providers - like a hospital or residential home - to offer much healthier, balanced dishes.
Government guidelines have been in place for years with recommendations for a healthy balanced diet. A healthy balanced diet involves eating a variety of foods each day from all of the five food groups.
These guidelines aim to educate people with the following intended outcomes:
To reduce childhood obesity

To reduce tooth decay in children

To help children build strong bones and teeth

To prevent heart disease

To prevent type 2 diabetes in older people

To reduce the number of overweight adults

To prevent high blood pressure in adults

To prevent diet related cancers