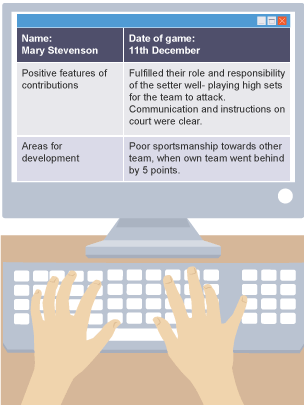 This method is also predominantly used for monitoring progress due to its ongoing nature.
A coach will likely provide you with feedback during and after every session and performance.
It can be used for the majority of factors however it can be difficult for a coach to provide feedback on some emotional factors like fear and sadness. This is because only you know how you truly feel and although you may appear happy on the outside, you may be putting on a brave face to hide negative emotions.
When providing feedback, a coach will tell you the positives and negatives of your training performance. Good coaches will:
tell you why something was good

tell you how areas can be improved

provide advice on what they think you need to do in the next session based on this

tell you where improvements have been made in relation to previous sessions
Below are benefits and limitations of coach feedback as a tool to monitor progress.
| Benefits | Limitations |
| --- | --- |
| Getting information from a knowledgeable source so it is likely the feedback received will be accurate. | If your relationship with the coach is poor, they may be overly harsh which can lead to the next steps not being developmentally correct for you. |
| Receiving feedback during sessions gives you a clearer understanding of your progress as it is fresh in your head and changes can be made quickly. | |
| Receiving feedback on how to develop performance further can help you plan appropriate next steps. | |
Let's now deconstruct coach feedback and break it down into smaller parts. In doing this, we are identifying an important part in the process then showing why this part is important in making the process work.
Your coach should provide feedback during sessions as it can stop you developing bad habits. This will ensure you can make the relevant changes there and then rather than waiting until your next session.

Remember:

monitoring is not just from session to session, it is also during sessions.

Your coach should tell you how to improve areas identified in sessions as being weak as this can help you set specific short-term goals for your next session. This will ensure you continue to develop the relevant areas of your performance as the development plan goes on.

Your coach should put aside any personal differences with you and give you feedback that is fair and as objective as possible. This will ensure the information you receive is correct and the right adaptations can be made in relation your progress.