When you shine infrared radiation through an organic chemical, certain wavelengths of the infrared radiation is absorbed.
This information can be displayed as a series of peaks and troughs on an infrared spectrum. The position of the peaks and troughs can tell you which chemical bonds are most likely to be present in the compound when you look at the wavenumber of each peak.
Here are some common examples.
Ethane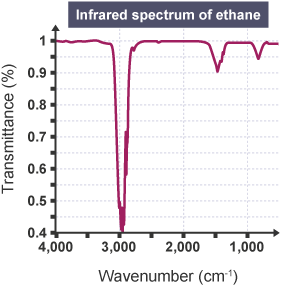 The strongest peak here is at around 2,950 cm–1. This wavenumber indicates the presence of C–H bonds, which is the main type of bond in ethane.
Ethene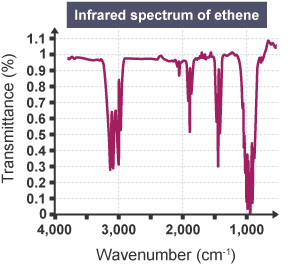 The spectrum for ethene also shows a strong absorption at around 3,000 cm–1, which again shows C–H bonds. The other peak of interest here is at around 1,500 cm–1, which indicates the presence of a carbon-carbon double bond (C=C).
Ethanol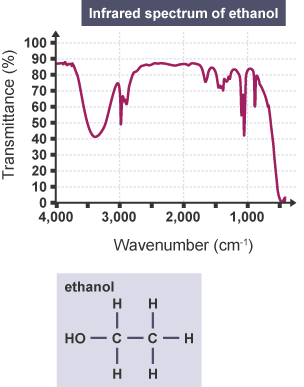 The spectrum for ethanol shows some interesting factors. There is a broad, rounded peak at around 3,400 cm–1 which indicates the presence of an O–H bond. There is also a peak at around 1,100 cm–1 which indicates the presence of a C–O bond.
Ethanoic acid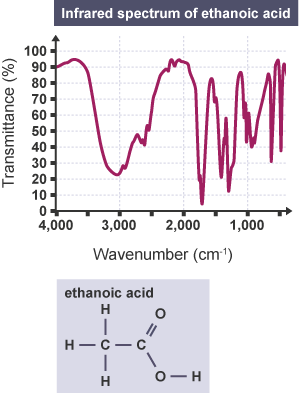 Finally, the spectrum for ethanoic acid also has a very broad peak around 3,100 cm–1, similar to that of ethanol which shows it has an O–H bond in it. It also has a peak at around 1,300 cm-1 which shows it has a C–O bond. However, it also has a very strong absorption at around 1,700 cm–1. This peak indicates that ethanoic acid contains a C=O double bond.
When given information on the different peaks, you will be expected to be able to use that information to interpret an infrared spectrum of a given compound.