Techniques for developing initial ideas
When working within a group, people are likely to respond differently to stimuli. There are several useful ways to develop initial ideas, such as still images and freeze frames, also known as tableaux. Try to spontaneously think of five tableaux and find a way of connecting them together to produce a short movement piece, with transitions between the images such as turning, crouching or jumping.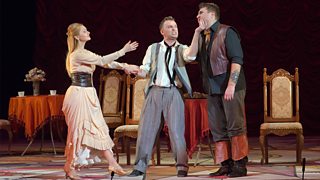 From this, it can be useful to explore spontaneous off-text improvisation. By performing a scene and seeing in which direction it leads, work can be produced and used within the developing piece.
Developing characters
It is important to do research into the types of characters within a practical work. Objects associated with a character or theme of the play can help to start discussions about how the objects might assist in shaping a piece and moving it forward.
It can be useful to write monologues for individual performers that can then be used as part of the piece to reveal a character's state of mind or to move the plot forward. Free writing is the process of writing without prior planning. It helps monologues not to feel too forced or overthought, and can be edited later as the practical work develops.
Hot-seating is a very useful tool when developing characters. By asking questions and answering them in role, it is possible to build three-dimensional characters. Rather than the conventional method of sitting in a circle, hence the name 'hot-seating', it can be helpful to question while walking around the room.
Role on the wall can be a useful tool when exploring characters. An outline of a body is drawn and put on the wall. Information is then added within and around the outline to describe the character's personality, interests and objectives within the piece of drama, and can be referred to throughout the devising process.
Developing locations
Soundscapes are an interesting way to create atmosphere, by incorporating sounds associated with the location of the scene. This can be improvised, with the focus solely on the sounds being made.