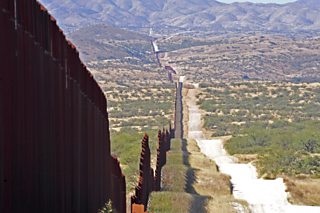 Around one million immigrants legally enter the US every year. Approximately 13% of people living in the US are foreign born (40.4 million).
Most illegal immigrants to the USA come from countries such as Mexico (estimated 5.9 million), other South American countries and Asia. The majority of illegal immigrants live in the US close to the Mexican border.
Opinion polls show Americans are deeply divided over the issue of immigration. Attitudes have been hardening against further large-scale legal immigration and the US government has also been tightening border security. A huge fence, costing billions of dollars, has been built on the US/Mexico border to try to prevent illegal immigration. Billions more will be spent on increased border security patrols.
A key pledge during Donald Trump's 2016 presidential election campaign was to build a 1,900 mile wall along the US border with Mexico in a bid to stem illegal immigration and protect America's borders.