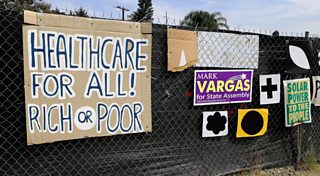 Unlike the UK, there is no national health care provision in the USA. A variety of federal government and state-supported health programmes give assistance to the elderly, the poor, and children in less well-off families.
In the USA, most Americans are expected to provide for their own health care through private medical insurance. 58% receive their private health insurance through their employer. Companies such as Blue Cross Blue Shield are among the leading private health care providers.
US government health programmes cover around 28% of the population (83 million people) and include:
Medicare

– mostly for people over 65 years of age and administered by federal government

Medicaid

– covers people on low incomes including children, pregnant women and people with disabilities. It is administered by states

State Children's Health Insurance Program

– covers those children who do not qualify for Medicaid
Until recently, around 45 million Americans (15% of the population) had no private health insurance and did not qualify for Medicaid. The numbers of uninsured Americans increased as access to healthcare became increasingly unaffordable and many employers were reducing the coverage they provided to workers.