Glasgow
Cities are constantly changing and growing. There is much pressure on the greenbelt from urban sprawl. This can be seen in the diagram below.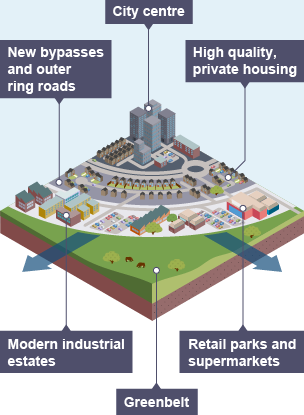 There are several reasons for the growth in development at the edge of the city on the rural/urban fringe.
Decentralisation of offices
Some offices are relocating to business parks on the outskirts of the city beside main roads for access. They are moving to take advantage of the cheaper land with room to expand. The unpolluted environment in the countryside helps to attract a highly skilled workforce. However, this relocation contributes to urban sprawl and land use conflicts with rural land users, eg farmers.
Transport changes
Many main roads, motorways and train lines link the suburbs with the city centre to allow commuters easy access to work, shopping and entertainment. Park and ride schemes have been particularly important to enable people to travel to events without taking their cars, eg football matches and arena concerts.
Housing developments
From the 1960's onwards, new towns, eg East Kilbride, and council estates like Castlemilk, were built on greenfield sites on the outskirts of the city to combat overcrowding in the inner city slums. New housing developments continue to add to the problem of urban sprawl today. Small villages like Clarkston have now been swallowed up by the Glasgow city boundary and farming villages like Eaglesham have been turned into commuter settlements.
New industry and new business districts
Industrial estates, retail parks, large supermarkets and shopping centres are located on the edge of the city. Silverburn is a recent example of a shopping centre built on the greenbelt of Glasgow. They take advantage of the cheaper land, room for expansion, access links and nearby population for labour and a market. However, these developments increase urban sprawl and put pressure on the greenbelt. The impact of these developments is a decrease in farmland and a loss of wildlife habitat.