Redevelopments in inner city Glasgow
Redevelopments in inner city areas, particularly along the River Clyde, have allowed the CBD to spread. Old dockland at Anderston Quay is now the SECC and Pacific Quay is home to the IMAX Cinema and Science Centre. More recent developments include the Transport Museum and BBC Scotland.
The inner city, or zone of transition, has undergone many changes over the past decades. There have been a number of programmes put in place to regenerate the inner city areas of Glasgow. This has been on-going since the 1970s, when many old heavy industries started to decline and close down.
Glasgow Harbour and Quayside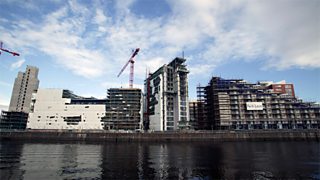 This programme began in the 1980s and focused on linear regeneration along the River Clyde. It has involved the development of new industry to replace the old shipyards and docks. Initially, the SECC was built as a way of changing the income coming into the city, through visitors and business.
New developments in recent years include Glasgow Science Centre, BBC Scotland, The National Transport Museum and the Hydro. The River Clyde is now multi-functional for tourists and includes The Tall Ship, and mini-cruises, as well as more traditional uses of transport and industry.
Modern apartments have been built to encourage more people to live in the city, including students and professionals. Transport links over the River Clyde have been improved with the addition of the Clyde Arc (known as the Squinty Bridge).
Trees have been planted and landscaping has improved the look of the area and make it more environmentally friendly. Springfield Quay has been developed as a leisure outlet with restaurants, cinemas and ten-pin bowling.
There are more planned developments outlined in the Glasgow Structure Plan for retail, leisure and commerce to help further improve this whole area, spreading the regeneration along the river and ultimately enhancing the city's economy.