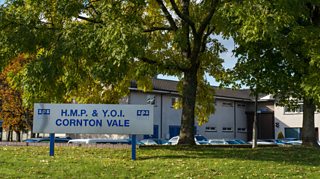 Scotland had second highest female prison population in Northern Europe. However, it now has one of the lowest female prison populations in Europe.
The report concluded that Scottish courts were increasingly likely to give custodial sentences to women and were imposing longer prison terms.
In February 2011, the chief inspector of prisons, Brigadier Hugh Munro, criticised conditions at HMP Cornton Vale, Scotland's only women's prison. He noted:
overcrowding was a major concern - the prison was designed to house 309 prisoners but had a population of 394

prisoner treatment and living conditions were not acceptable

the treatment of vulnerable women was a source of concern

limited access to activity creates an atmosphere of boredom and prevents positive rehabilitation
In June 2011, the Scottish government set up a commission to look into how female offenders are dealt with. The commission was led by former Lord Advocate Dame Elish Angiolini.
The commission found that women are more likely than men to:
be of lower risk to public safety

be in prison for dishonesty offences

have higher rates of mental health problems

have drug problems

have histories of physical and sexual abuse, and victimisation

have dependent children
It suggested that existing disposals to divert women from prosecution and remand could be utilised more fully. The final report made 37 recommendations, including the closure of Cornton Vale. Cornton Vale was due to close in 2018, however there have been delays with this.
In June 2015, the Scottish Government announced that the Scotland is to adopt a new approach to dealing with female offenders with a move towards custody in the community, backed by targeted support to address underlying issues and action to reduce the numbers of women receiving custodial sentences.
The plans, unveiled by then Justice Secretary Michael Matheson in 2018, will see a new small national prison with 80 places created, alongside five smaller community-based custodial units each accommodating up to 20 women across the country.
Justice Secretary Michael Matheson said: "What is important is doing the right thing for Scotland and our communities, based firmly on the evidence of what works in reducing reoffending. That is what we are implementing here.
Simply locking women up in a large facility doesn't work. We've seen the damaging impact that going in and out of prison has for the women, for their families and for their communities. What we need is a new approach. We need to continue to transform and improve services for women so that we can help them to break the cycle of reoffending."