Constructing a ray diagram
In a ray diagram, the mirror is drawn as a straight line with thick hatchings to show which side has the reflective coating. The light rays are drawn as solid straight lines, each with an arrowhead to show the direction of travel. Light rays that appear to come from behind the mirror are shown as dashed straight lines.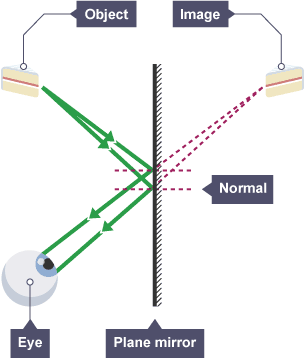 The incident rays (the solid lines) should obey the law of reflection: the angle of incidence equals the angle of reflection.
The image in a plane mirror is:
virtual

(it cannot be touched or projected onto a screen)

upright

(if you stand in front of a mirror, you look the right way up)

laterally inverted

(if you stand in front of a mirror, your left side seems to be on the right in the reflection).