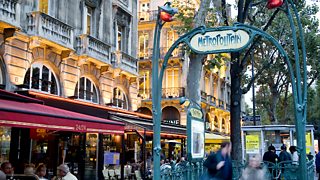 Practise speaking French by listening to these questions and answers on the topic of Culture.
Est-ce que tu as visité la France ou un pays francophone? Si oui, explique-moi un peu au sujet de tes opinions (la nourriture, les gens, le paysage, les magasins etc.)
Have you ever visited France or a French speaking country? If so, explain a bit about your opinions (the food, the people, the scenery, the shops etc.)
Oui, j'ai fait un échange scolaire à Paris l'année dernière. C'était fantastique. Je suis resté chez une famille sympa. J'ai vu tous les monuments célèbres comme la tour Eiffel et Notre Dame. J'ai aimé la nourriture, surtout les gâteaux.
Yes, I did a school exchange to Paris last year. It was fantastic. I stayed with a nice family. I saw all the famous sights like the Eiffel Tower and Notre Dame. I liked the food, especially the cakes.