Metallic bonding and structure
Metals
Most metals are malleable – they can be bent and shaped without breaking. This is because they consist of layers of ions that can slide over one another when the metal is bent, hammered or pressed. Due to the ions sliding over each other, most metals are ductile – they can be drawn/pulled into wires, making them suitable for electric cables.
Metallic bonds
Metals form giant structures in which electrons in the outer shells of the metal atoms are free to move. The metallic bond is the force of attraction between these free-moving (delocalised) electrons and positive metal ions. Metallic bonds are strong, so metals can maintain a regular structure and usually have high melting and boiling points.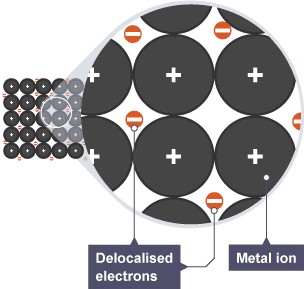 Metals are good conductors of electricity and heat. This is because the delocalised electrons can move throughout the metal.
[Higher tier only]
The greater the number of outer electrons that the metal has, the higher its melting/boiling point. This is due to the increased positive charge on the metal ion and the increased number of electrons that are delocalised, resulting in stronger bonding.