For the National 5 Geography examination, you need to be able to: -
use four and six-figure grid references

identify and locate physical and human features and patterns

measure distance and use scale

interpret relief and contour patterns

use maps in association with photographs, field sketches, cross sections/transects
Using four and six-figure grid references
OS maps are divided into numbered squares. These squares can be used to give a place a four or six-figure grid reference. It is important that you know both four-figure and six-figure grid references.
Make sure you know that: -
numbers along the bottom of the map come first and the numbers up the side of the map come second

the four-figure reference 2083 refers to the square to the east of Easting line 20 and north of Northing line 83

the six-figure reference 207834 will give you the exact point in the square 2083 - 7/10s of the way across and 4/10s of the way up
For example, on the map below, the six-figure reference 207834 shows a church in Bamford.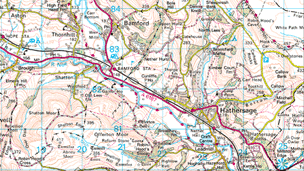 Note: when using an OS map to answer questions, you MUST always give grid references in your answer.