Commercial processes
Weaving
Large, automated industrial looms are controlled by CAD software that allows colour schemes and weave patterns to be controlled.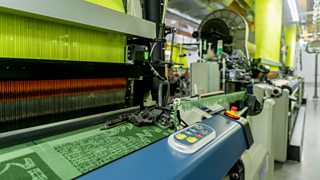 Dyeing
There are several different ways of dyeing fabrics:
stock or yarn

- dyes the fibres before they become fabrics

piece

- dyes pieces of fabric

garment

- dyes clothing once it is made
Dyeing usually takes place in large vats before being heated and dried.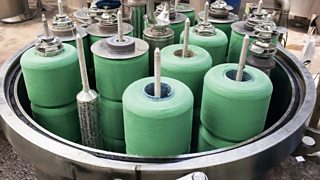 Printing
Commercial printing prints pattern onto the top surface of fabrics. There are a variety of printing methods available:
Screen printing
A screen with the stencil of the pattern has dye wiped over it to produce an accurate, repeatable print. A separate screen for each colour is required.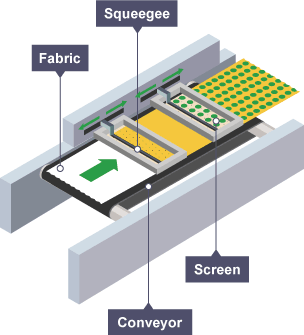 Roller printing
Roller printing can be used for long, striped patterns. A roller for each colour has a pattern embossed on it. As the fabric passes through, the pattern is added.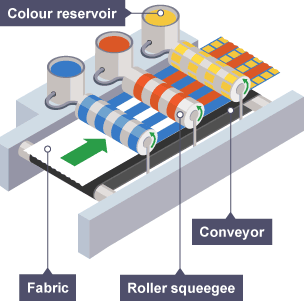 Sublimation printing
Sublimation ink is printed onto coated paper. Once heated, the image is transferred onto fabric.
Digital printing
Digital printing allows fabric to be printed on directly from an inkjet head. It is expensive but offers a wide range of colours.