Investigating the factors affecting the strength of an electromagnet
Purpose
To investigate, describe and recall how the strength of the magnetic field depends on the current in the coil, the number of turns in the coil and the material used as the core of the coil.
The main variables in a science experiment are the independent variable, the dependent variable and the control variables.
The Independent Variable is what we change or control in the experiment.
The Dependent Variable is what we are testing and will be measured in the experiment.
The Control Variables are what we keep the same during the experiment to make sure it's a fair test.
Variables
In this experiment the:
Independent Variable

is the current in the coil.

Dependent Variable

is the strength of the

electromagnet,

indicated by the number of paper clips that the electromagnet can hold.

Control Variables

are the material of the core, the number of turns of the electromagnet coil, size of paper clips.
Remember - these variables are controlled (or kept the same) because to make it a fair test, only 1 variable can be changed, which in this case is the current.
Prediction
As the current increases, the electromagnet will get stronger and hold more paper clips.
Justification for the prediction
The magnetic field is caused by the current flowing in the wire.
The bigger the current the stronger the magnetic field and hence the stronger the electromagnet.
| Hazard | Consequence | Control measures |
| --- | --- | --- |
| Water | Electric shock | Do not set up the experiment near taps, sinks etc. |
| Wire gets hot | Minor burns | Do not handle the wire. Switch off between readings. Do not exceed a current of 1 A. |
Apparatus
1m length of insulated wire, iron nail, a variable low voltage power pack, an ammeter, connecting leads, a retort stand, a boss and clamp, 2 crocodile clips, paper clips.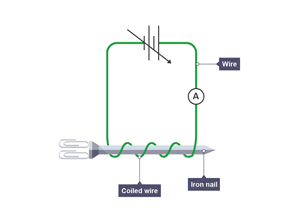 Method
Wind the insulated wire tightly around the nail to make an

electromagnet

.

Set up the equipment as shown in the diagram.

Adjust the power pack so that a current of 0.1 A flows. Record the current in a suitable table.

Attach as many paper clips to the electromagnet as it will hold. Count the number of paper clips and record in the table. Switch off the electromagnet.

Switch on again. Check that the current is still 0.1 A and repeat the paper clip reading. Record in the table and calculate the average number of paper clips held.

Repeat this process increasing the current by 0.1 A up to 0.6 A.
Error
Ensure that the paper clips are the same size and material. They should not be too big.