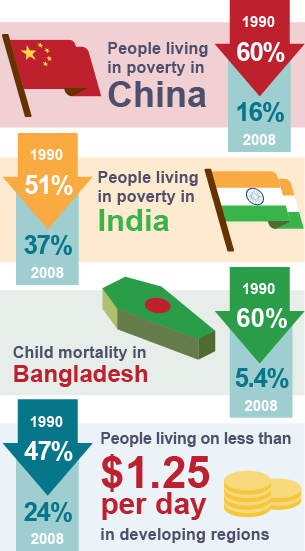 While there are still huge problems of poverty in sub-Saharan Africa especially, there is growing optimism about tackling the issue of poverty. Africa is among the fastest-growing regions in the world. Access to communications is changing the continent and the use and access to mobile phones has had a huge impact. The number of people living in extreme poverty has fallen in every developing region, including in sub Saharan Africa where rates are highest. Some regions have seen greater progress than others.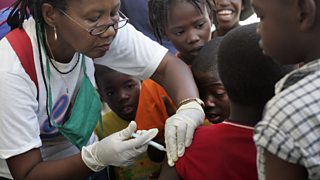 Child mortality in Bangladesh has been cut by more than 60% since 1990. Almost 90% of children are immunised against measles, diphtheria and polio, compared to just 1% in 1985. Every day 12,000 fewer children under the age of five now die than in 1990. Measles deaths are down by 78% since the turn of the millennium and more than 90 per cent of children now start primary school.
If this progress continues, MDG Target 1, cutting the extreme poverty rate to half its 1990 level by the end of 2015 will have been comfortably achieved. But this will still leave many millions of people, almost 16% of the world's population, living on less than $1.25 a day. Four out of every five people living in extreme poverty will be in sub- Saharan Africa and Southern Asia, despite significant progress.