Government responses to economic inequalities
Welfare to Work
Welfare to Work is the main US government strategy to reduce poverty. It is operated by the federal and state governments. Welfare support, such as Medicaid health insurance, childcare, food stamps and Earned Income Tax Credit (EITC), is linked to finding work. For example, EITC is worth up to $3,250 for the first child and is only available to those actively seeking employment or who have taken up employment.
Successes of Welfare to Work:
supporters claim more people have been 'encouraged' into work

this has increased the incomes of the poorest and reduced the cost of the welfare budget
Criticisms of Welfare to Work:
opponents claim it has forced many people to work for very low wages

it has not reduced inequality or poverty levels in the USA
Temporary Assistance to Needy Families (TANF)
TANF is a federal financed but state run programme aimed at getting as many single parents back to work as possible. It offers both employability and childcare support. Welfare benefits are linked to finding or looking for work. TANF is only available for a maximum of five years.
since TANF was introduced in 1996, the child poverty rate among single parents has fallen. Overall, however, fewer families today receive TANF as eligibility rules have tightened
Criticisms of TANF
the level of child poverty in the US is one of the highest in the developed world

the block-grants given to states have few restrictions on how the money is used. Michigan spends most of its TANF grant on college (university)

scholarships

while Texas uses the money to fund foster care
American Recovery and Reinvestment Act 2009 (ARRA)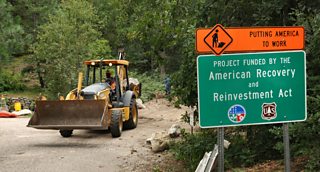 The ARRA was an economic stimulus package enacted by the 111th Congress in February 2009. The act was based largely on proposals made by President Obama to provide a stimulus to the US economy in the wake of the economic downturn.
the measures were worth $787 billion

the act included federal tax cuts, expansion of unemployment benefits and other social welfare provisions, and domestic spending including education and health care
Economists in the US are divided over the ARRA. Some agree a stimulus package was needed to help US economy but this did not go far enough or was the wrong package. Others feel ARRA has damaged the US economy as the US national debt has soared.