Handel and the Messiah
George Frideric Handel
Handel was born in Germany in 1685 and is considered to be one of the most important composers from the Baroque period. He was employed as the court conductor for the Elector of Hanover before moving to England in 1712. The Elector also moved to England after he was crowned King George I in 1714.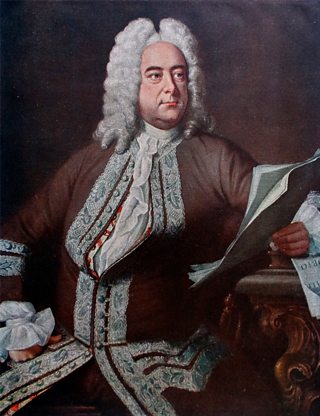 After the king's death in 1727, Handel was commissioned to compose Zadok the Priest for the coronation of George II. The anthem has been sung at every British coronation ever since.
Before moving to England, Handel had spent time in Italy learning to compose Italian opera, which was fashionable with the English upper classes and he made a successful living during this time. When the operas became too expensive to stage, Handel developed the oratorio. This large-scale form did not require acting, costumes and scenery, just solo voices, choir and orchestra. The oratorios were religious and based on texts selected from religious writings.
The Messiah
Handel's most famous oratorio is Messiah composed in 1741. When it premiered in Dublin the following year, Handel's name drew such a crowd that audience members were advised to leave their wide-framed hoop skirts and swords at home for fear of overcrowding.
The Messiah is divided into three main sections and tells the story of Jesus' life. Written in 1741, the libretto was adapted with words from the Bible by Charles Jennens.
The whole work takes about three hours to perform; amazingly, it only took Handel just over three weeks to compose.