The diagram shows the apparatus used to investigate moments. The 2 N weight is placed 60 cm from the pivot. The newtonmeter is placed 10 cm from the pivot.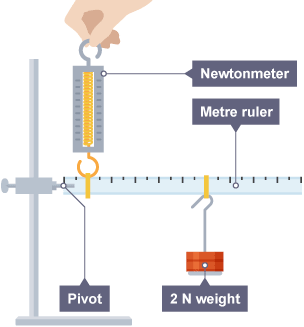 The metre ruler is replaced by an iron bar. The iron bar is 1 m long and has a weight of 10 N. The newtonmeter and the 2 N weight stay in their original position. Explain how this change affects the reading on the newtonmeter. [3 marks]
The reading increases because the weight of the bar causes a greater moment in the same direction as the 2 N weight than the moment caused by the (lighter) ruler.