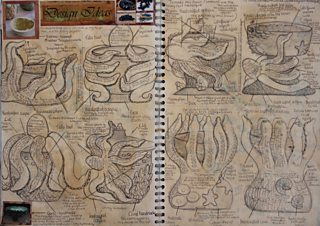 Annotations are written explanations or critical comments added to art or design work that record and communicate your thoughts.
There are several reasons annotation may be used, for example to:
analyse the work of an inspirational artist or designer

record a

technique

record ideas

explain the thinking behind an idea

analyse the success of a technique, idea or

composition

explain how a particular artist or designer's

style

or technique has influenced your work
Annotations can be used for your own reference, eg to make a note of how you achieved a technique, or to record an idea you might like to try later.
They can also be used to communicate information to the examiner that will help explain your thoughts and decision-making processes.
Using annotations can demonstrate evidence of planning, decision-making and problem-solving ability, which will all contribute towards your assessment.