Mitosis and the cell cycle
Mitosis
Cells divide when:
It is essential that any new cells produced contain genetic information that is identical to the parent cell. All new cells are created from existing cells when they divide.
The cell cycle
A growing and dividing cell goes through a series of stages called the cell cycle.
The first stages of the cell cycle involve cell growth, then replication of DNA. The single strand of DNA that makes up each chromosome produces an exact copy of itself. All of the organelles inside the cell are also copied. These processes happen in a stage of the cell cycle called interphase.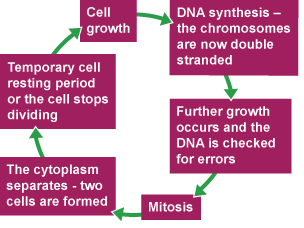 Once the cell has completed all the necessary processes during interphase, it is ready to enter into the next stage of cell cycle. The cell now undergoes a type of cell division called mitosis.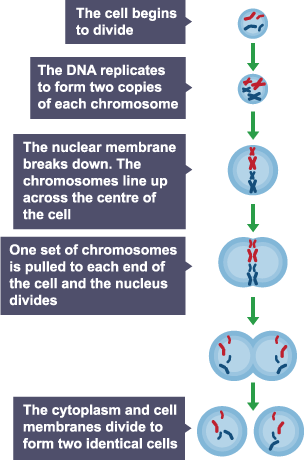 In mitosis, the chromosome copies separate, the nucleus divides and the cell divides. This produces two cells called daughter cells. Each daughter cell is genetically identical to the parent cell and to one another.
The organism now has more cells and so has grown.
Observing stages of mitosis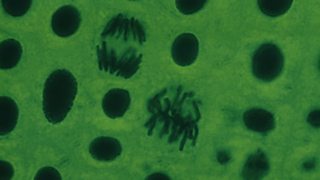 A light microscope can be used to observe cells during the cell cycle. The DNA is stained so it can be seen more clearly. When looking down the microscope, the presence of individual chromosomes shows that the cell is in the mitosis stage of the cell cycle. If chromosomes cannot be seen then the cell is in interphase.
Cancer
Cancer is a non-communicable disease that is caused by changes in a person's DNA. Normally, cells only divide if they get the correct signal. This could be triggered when the organism needs to grow so more cells are needed, or the organism has an injury so more cells are needed to repair it. If there is a mutation in the DNA of a person that stops the correct signals being sent to cells, cells may start to divide even though they don't need to. Mitosis is no longer controlled properly. When the cell divides many times by mitosis, a lump of cells can form, which is called a tumour.