The 'iodine clock' reaction occurs when two colourless solutions are mixed in a conical flask. After a period of time (which varies between several seconds and several minutes) the mixture turns very dark blue. A diagram of this method is shown below.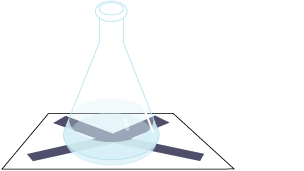 Why has the conical flask been placed onto a piece of white paper which has a cross drawn on it? [1 mark]
This question has been written by a Bitesize consultant as a suggestion to the type of question that may appear in an exam paper.
So that the timer can be stopped when the cross can no longer be seen when viewed from above [1]