Languages are defined as human-readable or machine-readable.
Human-readable instructions are encoded in a language that humans can use and understand, while machine-readable instructions are in a language that computers understand, and are in binary code.
Languages are also described as high level or low level. Low-level languages, such as assembly language, more closely reflect the mechanical workings of the CPU.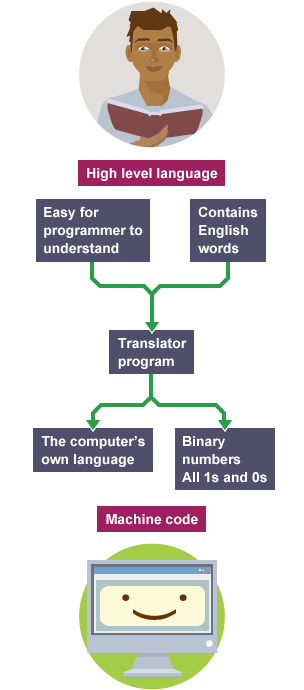 High-level languages include Java, JavaScript, C++, Ruby, BASIC or Python, while low-level languages include C, assembly language, and machine code.
A computer's CPU only understands (executes) series of binary numbers - so all programming languages are converted into binary code. Low-level instructions can be processed more speedily than high-level languages, but they are more difficult for people to read and write.
For major web applications and powerful games, developers need to know how to code in low-level languages in order to maximise the speed and efficiency of a program. Modern games are typically programmed using a variety of languages.