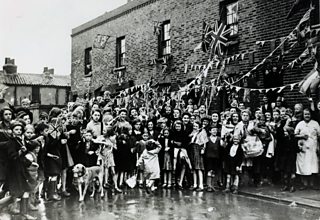 On 8 May 1945, Victory in Europe was celebrated with universal joy and relief across Britain after six years of conflict and sacrifice. However, the country and its people still faced a number of challenges.
One of the key challenges facing the UK in 1945 was the economic position of the country.
The national debt had risen from £760 million to £3500 million. Britain had spent close to £7 billion, or a quarter of the national wealth, on the war effort.
The UK was spending £2000 million a year abroad, while earning only £350 million in return. Loans from the USA were vital if the UK economy was to recover.
One in three houses had been destroyed by bombing whilst factories and shops had also been destroyed in large numbers.
Britain suffered 264,433 military and 60,595 civilian deaths during the war. Many others were physically and mentally scarred by the war and unable to resume normal life.
177 merchant ships and two-thirds of the Navy had been sunk, so food supplies were still a problem. Rationing remained in place for another 10 years. Income tax remained high to help the Government pay for the reconstruction.
This period saw the end of the British Empire. Its standing in the world had declined as it became impossible to contend with the economic might of the USA.
Wartime rationing had to be continued due to shortages of food and raw materials. This period in UK history is often called the Age of Austerity.
However, there was some hope because:
virtually every adult was employed (full employment)

there was optimism of a better future due to the victory

there was a sense of change – as shown in the Labour election victory

many accepted the end of the Empire
Optimism was felt in Wales too at the end of the war. Many evacuees, Bevin Boys, allied troops, and women in the land armies had experienced life in Wales for the first time during the war. Many young men had brought tales of Wales to the rest of the world as they served in the war. This exposure led to a recognition that Wales had a distinct identity from the rest of Britain, and people both within and outside of Wales were aware of it.
It was clear to many that the UK was no longer a great military or economy power. It was also evident that the country was entering a post-war decline.