Case study: Christchurch 2011 (HIC)
Causes
The earthquake struck the city of Christchurch in New Zealand on 22 February 2011. It was a 6.3 magnitude earthquake and the focus was very shallow at 4.99 kilometres deep. The earthquake happened on a conservative plate boundary between the Pacific plate and the Australian plate.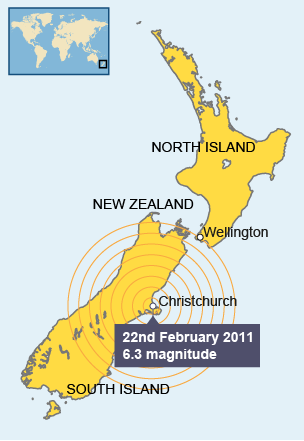 The strongest recorded earthquake in recent years in New Zealand was north-east of Christchurch on 14 November 2016, in a small town called Kaikoura which measured 7.8 magnitude, and had a depth of 15 kilometres.
Impacts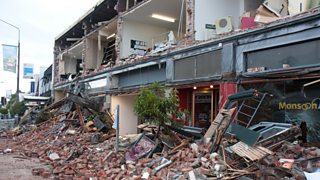 Impacts on infrastructure
Schools were closed for two weeks due to the damage.

Over 50 per cent of the city's buildings were damaged.

The city's cathedral spire collapsed.

Train and bus services were severely disrupted.

Water and sewage pipes were damaged.
Social and economic
181 people were killed.

2,000 people injured.

Damaged sewage pipes contaminated water supplies which increased risk of disease.

Businesses were closed for a long time.

Christchurch could not host five Rugby World Cup matches.
Responses to reduce the impacts
International aid was provided (around $6 to $7 million).

Aid workers from charities such as the Red Cross came to help.

300 Australian police officers were flown in.

Temporary housing was provided.

Pop-up hospitals were set up which would be a short term but effective response.
Responses to build capacity to cope
A new government taskforce was created to help deal with future earthquakes.

Areas were zoned to assess damage.

People are now being educated across New Zealand to do earthquake drills.
Responses to tackle the root cause
An earthquake proof home erected in South Island, New Zealand
Heavy furniture is fixed to the walls and the floor, so that it won't fall and injure people in the event of an earthquake.

A concrete foundation raised above ground level provides a sturdy base.

Steel framing is used which can bend in extreme earthquakes, but also provide strong anchor points.

Backup power generators are found in the basement which can be used if the electricity is cut off during an earthquake.

Large panes of flexible safety glass have been used to provide natural light. The glass can bend and flex during earthquakes.

The homeowners use smart phone apps to measure and monitor seismography, and to warn of potential tremors and earthquakes.