A carbon footprint is a measure of the impact our activities have on the environment. It calculates the greenhouse gases we are expected to produce in all our activities and measures them in units of carbon dioxide (CO2). The world average is about 4,000 kg of carbon dioxide per person per year. In the UK it is nearly 10,000 kg per person per year.
This pie chart shows what contributes to the carbon footprint of a typical person living in an MEDC.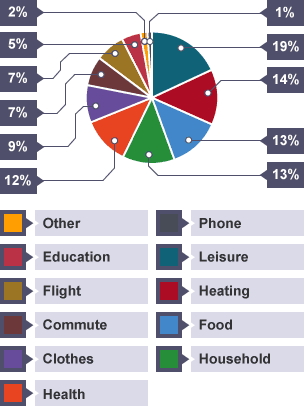 As a country develops its carbon footprint tends to increase. This pattern is shown in the graph below, with MEDCs emitting the most carbon dioxide.
| Country | 1990 | 2006 |
| --- | --- | --- |
| Qatar | 25.2 | 56.2 |
| United Arab Emirates | 29.4 | 32.8 |
| United States | 19.0 | 19.0 |
| Australia | 17.4 | 18.1 |
| Singapore | 15.6 | 12.8 |
| Japan | 9.5 | 10.1 |
| Germany | 12.1 | 9.7 |
| United Kingdom | 10.0 | 9.4 |
| South Africa | 9.1 | 8.6 |
| Italy | 7.5 | 8.1 |
| Thailand | 1.8 | 4.3 |
| Egypt | 1.4 | 2.2 |
| Brazil | 1.4 | 1.9 |
| Kenya | 0.2 | 0.3 |
| Bangladesh | 0.1 | 0.3 |
| Sierra Leone | 0.1 | 0.2 |
| Ethiopia | 0.1 | 0.1 |