Swimming - an overview and history of the sport
Overview
Swimming is an individual or team collection of races and distances that consist of five major strokes:
backstroke

breaststroke

butterfly

freestyle

combination of the above
When people think about swimming they often associate it with the Olympics and Paralympics and the 34 officially recognised races (17 for each sex). Each of the 34 races has specific rules that look at the timing, judging, starting and finishing of the event.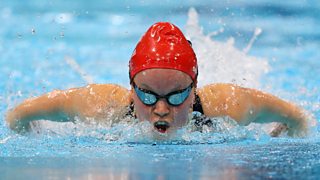 Away from competition, swimming is a hugely popular recreational activity that is enjoyed by millions of people for a healthy workout. The very low impact and resistance of the sport allows it to be enjoyed by all ages and sexes.
History
Public interest in swimming can be attributed to Matthew Webb in 1875 when he became the first person to swim across the English Channel in a time of 21 hours. Twenty-one years later, in 1896, swimming exploded onto the world stage through its inclusion into the first modern Olympic Games. Those early events were very different to the modern games though as the competition was held in the Mediterranean Sea rather than indoor swimming pools.
Early swimming competition saw athletes mainly use the breaststroke until 1902. Australian Richmond Cavill was the first to swim with a modern freestyle technique.
The early swimming competitions were a male dominated affair until the inclusion of women's 100 metre freestyle and the 4 × 100 metre freestyle relay in the 1912 Olympics.
By the 1930s, the worldwide popularity of swimming was now established and the masses were beginning to examine new styles and technologies. This stimulated the invention of the butterfly stroke but it was not until 1976 that swimmers were finally allowed to wear goggles.
The modern history of swimming will show that today's men and women's event programmes are almost identical. They contain the same number of events, with one remaining difference coming in the longer freestyle distances of 800 metres and 1500 metres.