Using email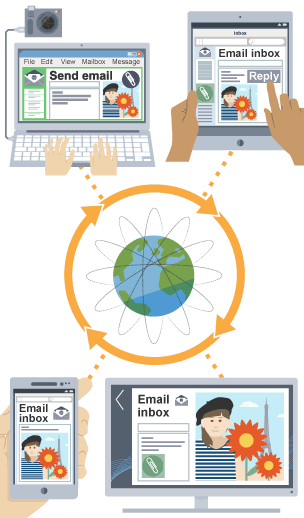 To send and receive email you must be connected to the internet.
Dial-up users pay by the minute, so it makes sense for them to write their emails before they connect to the internet and to disconnect once they've received their new emails. This saves money.
Broadband users pay a flat rate monthly subscription, the price they pay is not determined by how long they're online.
Sending email
Open the email client, eg Microsoft Outlook, or if using webmail open a browser and enter the webmail address, eg http://www.gmail.com and log in.

Click 'New' or 'Compose'.

Enter the intended recipient(s) email address(es) in the 'To' field.

Write a suitable subject in the 'Subject' field.

Write the message in the space below the Subject field.

Click 'Send' to send the email.
There's the option to add an attachment, eg a photo.
For security reasons, webmail users should log out once they're finished as the computer they're using might be used by other people who, if they forgot to log out, would be able to gain access to their email.
Receiving email
Email clients and webmail periodically check for new emails. A manual check can be performed by clicking 'Send and Receive' in an email client or by refreshing the page when using webmail.
Email clients download attachments automatically but webmail users must choose to download attachments.
Email on other devices
Today email is not limited to computers. It can be sent from many other devices too, such as:
With wireless hotspots becoming increasingly common, it's easier than ever to connect to the internet while on the move.