Formulations in everyday materials
Many of the products that we use every day, such as medicines and foods, contain a number of substances mixed together. Each substance in the mixture is chosen for a particular purpose.
For example, here is the label from a medicine used to treat colds and flu: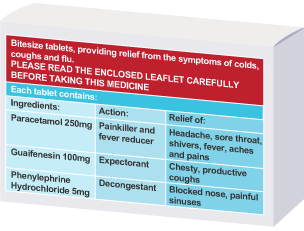 When a manufacturer produces a medicine, it is important that the substances it contains are mixed together in the correct quantities. This is important because otherwise the medicine will not be at the right strength to be effective.
The manufacturer will follow a recipe to make sure of this. In chemical terms, the recipe to make substances in industry is called a formulation.